ACI says construction industry suffers from non-conforming products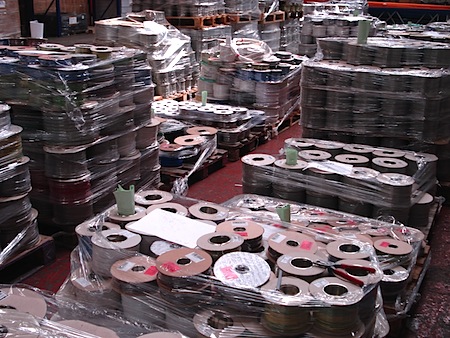 The Approved Cables Initiative (ACI) is questioning the prevalence (or otherwise) of faulty electrical products in the UK construction sector. By James Hunt:
The ACI, which is the industry-wide working group with supply chain representative bodies that addresses the issue of unsafe, non-approved and counterfeit cable entering the UK marketplace, has spoken out following news from Australia that Non-Conforming Products (NCP) are a significant problem in the country's building and construction sector.
The same could happen in the UK construction sector, where there may also be a problem with NCP, including in the cable arena – and the ACI wants to know how prevalent the problem is.
This follows news of more trouble in the Australian electrical supply chain, as a new product recall has resulted in another cable importer going bust. It also follows the ACI's recent warning to UK distributors and importers about their need for awareness of their responsibilities under the revised Low Voltage Directive (2014/35/EU). The recently recast Directive highlights clear responsibilities, and the ACI wants to make sure that those in the cable supply chain are fully aware of what they need to be doing to ensure compliance.
As in the now notorious case last year of the Australian national recall of Infinity and Olsent brand electrical cables, the recent collapse of Ecables Pty Ltd may leave contractors and building owners having to fund the removal of dangerous cabling products themselves.
So concerned is Master Electricians Australia (the country's equivalent to the Electrical Contractors' Association) that it is calling for urgent reform of electrical product safety certification.
Commented Master Electricians Australia state manager for Victoria, Simon Tengende: "The faulty cables presented a serious risk of fire or electrical shock. The company's collapse was bad news for building owners and electrical contractors who installed the cable and may now be required to remove it. It also creates great uncertainty as to how the cost of the removal and replacement of dangerous cable will be funded.
Around 40,000 homes and businesses in the country still have potentially dangerous cable installed six months on from the recall.
Why is it happening?
The Australian construction sector reports a number of factors that are leading to a growth in faulty products including:
A rise in online purchases
Gaps in the regulatory environment
Pressure to cut costs (competing on price for labour)
A global market - where smaller, lightweight building products can be easily transported.
Examples of non-conforming goods found in Australia include electrical products, as well as steel, glass, aluminium products and structural plywood. Reports have also highlighted asbestos found in cheap plasterboard products from China, as well as gaskets, mining equipment and various vehicles.
Breakdown of responsibilities
There is concern that the builder is often the only person having any responsibility to make sure that products are fit for purpose.
In Australia's case, the framework for managing building materials is limited. Whist there is a national building code, as in the UK, many of the necessary technical standards, oversight and checking is left to the last people in the supply chain – the builder and the building inspector. So, by effectively leaving regulation to the last possible moment, manufacturers and suppliers can still retail building products that may not be fit for purpose.
In the UK construction sector too?
Commenting, the ACI said: "We are keen to understand whether the problems experienced in Australia of non-conforming products are also being played out in the UK construction sector.
"Many of the reasons cited for the rise in NCPs have relevance for the UK too and we would ask all interested parties to let us know of any similar experiences they may have had."
The ACI can be contacted at
info@aci.org.uk
or call 0208 946 6978
0208 946 6978
/07973 636688
07973 636688
. For further information about the ACI campaign visit
www.aci.org.uk
More on the Approved Cables Initiative
Approved Cables Initiative (ACI), an industry-wide working group, is highlighting the dangers of unsafe, substandard, non-approved and counterfeit cable to the cable supply industry (electric and data) and the general public.
Its work focuses upon communicating that such cable is dangerous and that there is a gap in current legislation and enforcement. It is currently pushing for changes to UK legislation to stop dangerous cable being imported and to increase the penalties for infringements.
Anyone with information or concerns about a suspected faulty or counterfeit cable should contact the ACI who will test samples and if found to be unsafe supply details to relevant industry regulators and legislators. ACI can also provide guidance where appropriate to installers.
The ACI works with supply chain representative bodies including Electrical Distributors Association (EDA); Electric Contractors Association (ECA); Electric Safety First; British Approvals Service for Cables (BASEC); British Cables Association (BCA); Energy Networks Association (ENA); Ascertiva (previously the NICEIC Group Limited), SELECT and the Joint Industry Board (JIB).
To learn more, please use the link below.
Links