Dodgy cables - understand your responsibilities warns the ACI again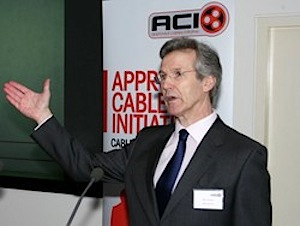 The Approved Cables Initiative (ACI) has reported more trouble with sub-standard and possibly dangerous cables in the Australian electrical supply chain, as another product recall has led to the collapse of another cable importer there. Again, there are implications for the UK. By James Hunt:
The collapse of yet another Australian cable importing company has led the Approved Cables Initiative (ACI -
www.aci.org.uk
) to remind once again UK distributors and importers of their need to be aware of their own responsibilities under the revised Low Voltage Directive (LVD) (2014/35/EU).
This latest compliance issue for Australia's cable supply industry resulted in Ecables Pty Ltd go into liquidation after a recall of its ECABLES brand copper clad aluminium power cables. Independent testing had found that these cables failed to meet the required standard. It also established that the insulation melted at less than half the temperature it was rated to withstand. The faulty cables presented a serious risk of fire or electrical shock.
This collapse could leave contractors and building owners having to fund the removal of dangerous cabling products themselves, so they face potentially very large costs. So concerned is Master Electricians Australia (the country's equivalent to the Electrical Contractors' Association) that it is calling for urgent reform of electrical product safety certification.
A spokesman for Master Electricians Australia said: "The company's collapse was bad news for building owners and electrical contractors who installed the cable and may now be required to remove it. It also creates great uncertainty as to how the cost of the removal and replacement of dangerous cable will be funded."
All this follows 2014's national recall of Infinity and Olsent branded electrical cables, which led to the collapse of Infinity Cable Co. Distributor Woolworth faces an estimated clean-up bill of between £16 - 32 million.
Importer and distributor awareness queried
The ACI is following this issue very closely in the UK. Commented ACI Director Peter Smeeth: "The UK cable supply chain needs to understand that which is happening in Australia could happen here. Compliance is vital throughout the chain especially in light of the recast Low Voltage Directive."
Only a few weeks ago, the organisation questioned UK distributors' and importers' awareness of their clear responsibilities under the revised LVD, which will be enforced nationally in April 2016 and released as a revision of the Electrical Equipment Safety Regulations. The ACI therefore aims to ensure that those in the cable supply chain are fully aware of what they need to be doing to ensure compliance.
Under the Directive, the importer/distributor must check that the manufacturer has correctly fulfilled the required obligations and that he/she understands his/her important role to play in guaranteeing product compliance.
The organisation also points out that it is important for UK electrical contractors to take greater care with their purchasing decisions. Said Peter Smeeth: "It is vital for all to be watchful in their purchasing decisions and to buy from reputable manufacturers. For peace of mind, only buy third party approved cable."
The ACI believes by urging its members to only purchase from reputable manufacturers, the Master Electricians Australia may be able at avert yet another cable recall. "These are valuable messages for UK contractors to take note of," said the ACI.
Those having concerns should call 0208 946 6978
0208 946 6978
/07973 636688
07973 636688
or email
info@aci.org.uk
To learn more, please use the links at the bottom of this web page.
Links