Don't leave your customers in the dark – independent product verification provides peace of mind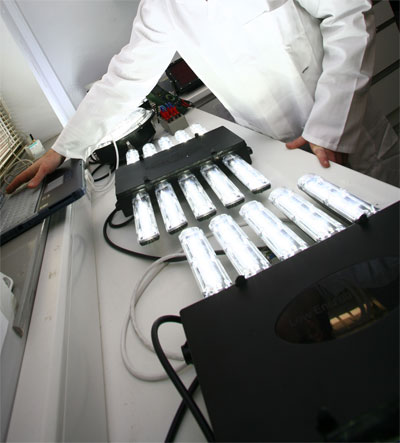 Through its ISO 17025 accredited testing, verification and certification service, the LIA Laboratories provide lighting manufacturers with an independent 'testimonial' for their products, giving customers extra reassurance and peace of mind. The LIA laboratories work to build relationships with the supply chain from manufacturers and specifiers, to wholesalers and end users, meeting the needs of the lighting industry effectively.
The scheme operates in partnership with the Energy Saving Trust, so that compliant products can be marked with both the LIA LAB and Energy Saving Trust verified brand marks. With accurate data provided by the scheme you can ensure conformance with legislation, quality control and the support of product marketing claims – what's more, your customers can be assured that the quality of our testing acts as a guarantee that the product in the box does exactly what it says on the box.
This unrivalled service is available to suppliers of luminaires and lamps/LED modules, encompassing both established and new technologies. The organisation also offers a Registered Photometric Laboratories Scheme for both Far Field Photometers and Photometric Spheres to provide assurance of the validity of manufacturers' photometric data.
LIA Laboratories General Manager Mark Salt commented: "Misunderstandings and misrepresentation have led to many of the lighting industry's customers becoming wary of new technologies. The purpose of the LIA LAB verification scheme is to provide reassurance that products have been independently tested and will deliver the expected performance."
LIA Laboratories is the U.K.'s largest independent test laboratory dedicated to lighting and has over 20 years' experience in testing lighting products. It also has the largest scope of UKAS (United Kingdom Accreditation Service) accreditations for lighting and supporting products in the UK and is the UK Government appointed Notified Body under the Low Voltage Directive.