Electricians are the UK's most trustworthy tradesmen, a new study finds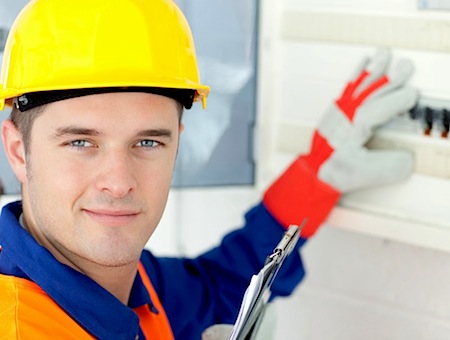 New research, encompassing 2,000 Britons, has found that of all tradespeople in the UK, electricians are the most trusted by the general public. By James Hunt:
The study also shows that electricians are believed to have the best manners and to be the most punctual and presentable looking of all tradespeople.
This is an excellent result, and possibly reflects – though this is not a conclusion of this research - the amount of often highly technical training that electricians and electrical installers have to undertake, not least because of the relatively high technical content of electrical installations, and the dangers.
By Helly Hansen Workwear, this commissioned study also revealed window cleaners and plumbers to be second and third on the list, plumbers were voted as the friendliest workers and the most likely to have a joke, followed by window cleaners. However, those questioned also found plumbers (as well as builders) the professionals most likely to overcharge a customer. Builders were also perceived by the public to be the tradesmen who work the shortest number of hours per day, followed by window cleaners.
And the study also found that scaffolders, glaziers and tilers still have a lot to do – featuring, as they do, at the bottom of the list of trusted tradesmen.
Other important findings are that appearance matters when it comes to trusting tradesmen, with 58% of people more likely to hire someone wearing a uniform, and more than 40% thinking that wearing a uniform enhances the quality of job, with 56% thinking a professionally branded uniform enhances the quality of the job further.
Wary…
Other important – though hardly unexpected findings - are that cost is still the driving factor when choosing a tradesman, but that a professional appearance was a crucial factor for nearly half of those polled, while getting recommendations from other people plays a big part for picking the right tradesperson.
Also, the research found, there is still a feeling of apprehension when hiring new tradespeople – indeed, over three quarters of those polled become nervous when dealing with a tradesperson they've never used before.
Probably this is because nearly 40% of those polled have had a bad experience in the past that has put them off. Moreover, more than a third said they have been made wary because of things they have seen on TV, while 30% have experienced bad manners or impoliteness from a tradesperson in the past.
Commented a spokesman: "The results show that, overall, the majority of Britain's tradesman have a solid reputation, but we still associate certain trades with certain characteristics.
"When hiring a tradesman, we are placing a lot of faith in allowing that person to work in our home, so we want to know that trust is well placed.
"The way someone dresses, holds themselves and the manners they have still has a powerful impact, and can go a long way to reassuring potential customers that they have the right skills and attitude for the job."
"When it comes to placing our trust in a tradesman, we need to see a professional appearance, polite etiquette and disciplined attitude in order to have faith we've picked the right person."
Workwear activity
Studies such as this are very useful and worthwhile as long as the sampling and methodologies are properly done, but Helly Hansen is far from being the only workwear firm active in the UK.
For example, Dickies Workwear, which also provides personal protective equipment (PPE) – much of it ideal for many electrical contractors and installers – is very active in sponsoring awards schemes, raising money for charities (e.g. BBC Children in Need), sponsoring motorsport (and in particular a team in the prestigious British Superbikes series), and even 'Glastonbury's National Go Skateboarding Day'.