LIA builds new £700,000 state-of-the-art lighting test laboratory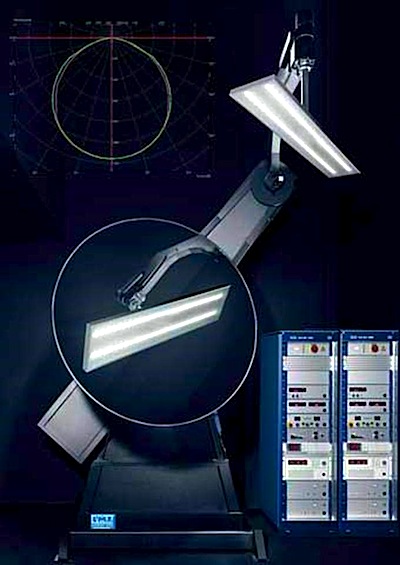 Today, the lighting industry is seeing exciting and dramatic changes, with new technological advances – mainly LED-based - arriving seemingly on an almost daily basis. This means that the demand for lighting testing is increasing fast, and one result is that the Lighting Industry Association (LIA) is planning a new, much larger and more advanced testing laboratory in Telford. James Hunt reports:
Lighting Industry Association Laboratories (LIA Labs -
http://lialab.org.uk
) is investing £700,000 in a state-of-the-art lighting laboratory in order to keep pace with the latest and forthcoming advances in lighting, as its ever expanding UKAS / ILAC accreditation demonstrates.
This new 1,250m2 laboratory being constructed in Telford is adjacent to the organisation's existing building. Originally scheduled for completion by mid 2014, it is now aimed to finish by the end of this year.
Once completed and commissioned, the LIA Labs says that it 'will be able to continue to develop its services and meet industry demands through this challenging period of technological change within the sector'.
The new lab is the responsibility of Mark Salt, who is general manager of LIA Laboratories, and it is his job to improve the laboratory's working conditions, test facilities and ability to meet new and future market demands. The LIA also intends the new lab to bring in extra business for the organisation, and it is Mark's responsibility to achieve this too.
He said: "We are just about to be UKAS accredited as an independent certification body."
"With the new laboratory and its greater range of modern test facilities, we will be able to evaluate the latest lighting technologies, including solid-state lighting (SSL), such as LEDs and OLEDs.
"One difficulty within the industry is that SSL has a high electronics content, and the new lab is designed to meet the requirements for testing these new technologies. With the new lab, we will be able to test all lighting systems, and test all lighting products to ensure that they perform as stated on the box.
"Many new lighting products now come from the Far East. Many are fine, but others do not comply, or perform well, or may even be dangerous, and we often don't know their provenance.
He continued: "Many smaller manufacturers can't afford to invest in the required technology for proper testing, which is where we come in, as we will be able to provide a better, more comprehensive service that will be affordable to all within the new laboratory".
The new test equipment
New equipment will include an 8m high by 25m long light-path goniophotometer that the LIA bought from BSI. It measures lamp (or lamp plus luminaire) light output very accurately in terms of lumens/W, beam angle, colour temperature and photometric distribution.
LMT in Germany has now refurbished this large instrument at a total cost of £70,000. It will be housed in the new lab, and will need extra staff to operate it and associated equipment to meet the requirements of both growing demand and new clients.
In addition, new humidity, climatic and IP chambers have been provided, as well as lamp conditioning (lamps and luminaires have to be 'soaked' for up to 10 days before test) and life testing room large enough to life test 2,400 lamps. Other test equipment within the Lab will be needle flame and glow-wire testing equipment - which have their own enclosures - plus three integrating spheres into which lamps under test are placed to measure their light output. These vary in size to accommodate various sizes of lamp.
Climate controlled
To keep all of this test equipment accurate and in perfect condition, it will be temperature controlled with an air movement of less than 0.2m/s. The photometer, for example, has to be maintained at a temperature of 25oC +/- 1oC.
Concluded Mark Salt: "This new laboratory will, when complete, support new independent certification schemes providing accreditation of far-field photometers and integrating spheres, as well as certification for lighting products on attributes including safety and longevity.
"It will also allow the us to develop and meet industry requirements in the future and, we hope, to double our turnover."
Attachments