Multi-million dollar cable recall in Australia and BASEC warns it could happen in the UK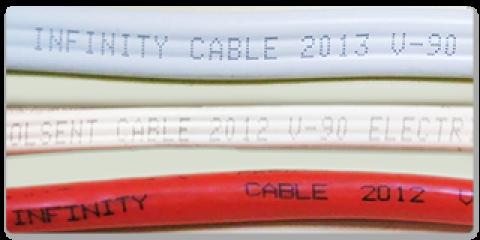 A major cable recall affecting up to 40,000 homes and businesses and costing an estimated A$80 million dollars (£43m) has hit the headlines in Australia – and non-compliance is the issue, reports the British Approvals Service for Cables (BASEC):
In this Australian case, says BASEC, the distributor is in liquidation, the owner has criminal charges against her and a taskforce comprising of 21 consumer agencies and regulatory bodies, the largest ever assembled, has been put in place to source, destroy and replace around 2,500 miles of potentially hazardous cable across five states before it becomes a fire or electrocution threat.
The recalled cable was manufactured in China, imported by the Sydney based company Infinity Cable Co Pty Ltd and comprises many sizes and configurations of domestic mains power cables under 'Infinity' and 'Olsent' brands.
Tests led by NSW Fair Trading found that the cables do not comply with the ageing requirements of the electrical safety standard, AS/NZS 5000. The plastic insulation and sheathing becomes brittle within a short period of time and cracks if disturbed, exposing the copper conductors and potentially causing electrical shocks, short circuits or fires.
During the period 2010 – 2013, it was sold in major hardware stores and electrical wholesalers across New South Wales, Victoria, Queensland, Western Australia, and Tasmania, mainly to smaller electricians and other trades. This has left the sellers of the Infinity and Olsent-branded cable with the bill for the recall, which equates to millions of dollars. In addition, installers now have the huge task of removing and replacing affected cable from domestic households and businesses.
Need to avoid such incidents in the UK
Commented Dr Jeremy Hodge, chief executive of BASEC: "Recalls of this magnitude are rare but it serves as an important reminder of how we can all help to avoid similar incidents here in the UK.
"In this case, when the cable was first supplied to hardware chains and electrical wholesalers it came with papers saying it met Australian standards. But later testing found that it did not.
Jeremy continued: "It is a common misunderstanding that a cable is compliant with standards just because the supplier claims this, by printing the standard number on the cable. Our message to wholesalers and electricians is always look for markings on the cable to say it has been independently tested and approved."
Third party certification necessary
Cable marked with only a standard number should be treated with caution, as it is probable that nobody independent of the manufacturer has examined that cable.
Having third-party certification of a product, with its rigorous independent audit and test regime coupled with continuous surveillance and random product testing, gives manufacturers a level of protection against problems emerging.
All BASEC approved cables are regularly tested for ageing and many other properties. When problems are found this helps ensure swift and effective measures to reduce the impact. Unfortunately, it is often not until cables are installed, tested or used that a problem comes to light and by then it can be too late to avoid the enormous costs of rectifying the situation."
More problems in North America
Meanwhile, in the USA and Canada, more than six million computer power cords have been recalled because defective cabling has the potential to overheat or cause a fire. In the USA, the Consumer Product Safety Commission recalled the Chinese made LS-15 AC power cords bought with Hewlett-Packard and Compaq laptops and docking stations between September 2010 and June 2012.
BASEC provides specific advice
For installers, BASEC advises the following precautionary steps and action to safeguard against the risk of installing cable which is sub-standard:
Prevention is better than cure - instruct your procurement department to buy approved cable – look for the BASEC mark not just a standard number.
Seek advice early if a problem with the cable is discovered, for example on system testing.
Contact BASEC on cable quality issues or your trade body e.g. ECA or inspectorate e.g. NICEIC on the installation aspects.
Keep records of the purchase, including reel ends with batch marking on, receipts from the wholesaler and any other sales records on your computer system, and a sample of the cable markings.
If you have scrap lengths, these can be sent to BASEC for checking and testing. Based on the test results, BASEC will then advise on the best course of action.
Further information and assistance is available at
www.basec.org.uk
,
technical@basec.org.uk
, or contact BASEC directly on 01908 267300
01908 267300
.