State-of-the-art BASEC fire cable test lab is readied for start-up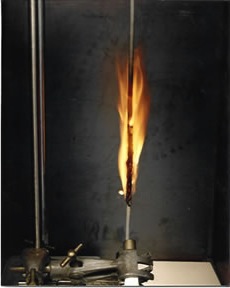 The brand new BASEC laboratory facilities in Milton Keynes, which are currently being commissioned, have been designed to meet the rising demand for Construction Products Regulation 2011 (CPR) fire tests on electrical cables. James Hunt reports:
Many cable installations have critical functions in the event of fire, or their contribution in a fire might affect fire growth or safe evacuation. It is for this reason that many cable standards include fire performance tests and other tests that are available as stand-alone indicators of performance.
However, such tests can measure quite different features of performance, so the designer and specifier has to to understand their purpose, how to specify fire performance of cables and how to identify what they are installing. So the fire testing of cables is crucially important.
The new test laboratories at BASEC's Milton Keynes HQ are due to go fully live by the end of this year. The facility has been built in part because fire testing is the most problematic area of cable testing because of the inherent uncertainties involved in the progress of a fire. Not all tests for fire resistant cables are the same and it was thought that the tests and the methods currently being used were not keeping up with technology and the needs of the industry.
For this reason, BASEC has been working with other laboratories to develop more reliable and consistent tests. The rigorous testing of cables is crucial to maintain confidence in their performance, quality and fitness for purpose, which is why, in 2012, the organisation made a significant investment in a new laboratory, including the commissioning of brand new test equipment.
BASEC's previous arrangement for testing with the British Standards Institution (BSI) was concluded earlier that year and staff and equipment were transferred to the new site. A number of new jobs and apprenticeships were created locally, and the new fire cable testing laboratory is an addition to the 2012 facility.
Its three new re-configurable fire test labs and a ladder rack rig therefore join BASEC's existing smoke and halogen testing facilities, and it represents a considerable investment. It also further expands the capability of the largest dedicated testing facility in Europe.
Strong demand expected
Dr Jeremy Hodge, chief executive of the British Approvals Service for Cables (BASEC) anticipates a strong demand for the soon to open cable fire testing facility, as the cable industry moves to implement the Construction Products Regulation 2011 (CPR).
He expects increased demand from current clients for the fire testing of cables in accordance with the CPR, and the test labs will also be open to other cable manufacturers and traders seeking to conform to the regulations as they become applicable to cables.
Said Dr Jeremy Hodge: "In anticipation of this, BASEC has made a substantial investment in laboratories, equipment and a dedicated team of staff and we have expanded the range of our services to meet the demands of the industry. At Milton Keynes we have combined the expertise and experience of our staff with state of the art equipment within first-class facilities to serve our clients from around the world who hold BASEC approvals.
"And with the implementation of the CPR for cables," he continued, "we also expect there will now be a demand from other manufacturers who do not have access to the kind of facilities we can offer, such as production/certification and development testing of their products.
"We will also be able to turn test samples around quickly and competitively. This is a very exciting time for BASEC," he concluded.
Various fire cable tests
BASEC laboratories will be able to carry out a number of cable fire tests. These are BS EN 50200; BS EN 50200 Annex E; BS 8434-2; BS 6387 CWZ, and others based on IEC standards.
It will also shortly encompass a BS EN 50399 3.5 metre tall ladder rack rig for vertical fire tests on cables. The Milton Keynes headquarters also has a three cubic metre smoke chamber for smoke emission tests (EN 61034-2).
More about BASEC
The British Approvals Service for Cables (BASEC) is a recognised sign of assurance of independent cable testing and approval. A non-profit making Government-nominated body, the organisation has for more than 30 years been a mark of reassurance to those specifying cable. BASEC is also a Voltimum UK Partner Company.
All products are rigorously tested to meet necessary and appropriate British, European and international standards through detailed examination of manufacturers' production processes and controls.
From its laboratory, BASEC provides a service to test suspect cables in the marketplace, working with national initiatives to help stamp out the manufacture, distribution and use of non- compliant, or counterfeit cables.
Further information may be obtained by emailing BASEC at
mail@basec.org.uk
, calling 01908 267300
01908 267300
, or visiting
www.basec.org.uk