Q & A of the Day – Is this hotel room TV and plug installation compliant?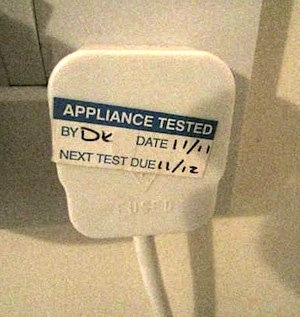 Dom asks this question, which concerns the PAT testing of a TV and Skybox in a hotel room and whether the arrangement is in compliance. It has been answered by Fluke (Theme – Testing, Tools and Equipment):
This Q & A is one of thousands posted in our Technical Expertise area, and answered on a daily basis by our Voltimum Experts.
Question: When portable appliance testing (PAT) a hotel room, I found a TV and Skybox connected to the same plug as I was checking the load on both items. This plug was protected by a 3A fuse.
I could not find anywhere in the IET Code of Practice that this cannot be done. So, is this a failure?
Answer: The main factor to consider here is, as part of your visual inspection, is the plug being used outside of its BS 1363 design parameters?
The design and safety testing of the plug was made with one cord in mind, so you have no way of knowing how it will respond in its current configuration.
To see many more Q & A in Voltimum UK's Experts Area, please click on the link. Experts from leading organisations provide online answers to your technical questions on a broad range of subjects. Our searchable database of existing Q & As now contains over 3,500 entries; you can browse through them here.
Links